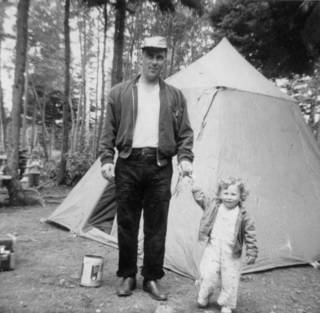 Lynne anne & Dad

This picture is of my sister & my Dad - here's the emails about it:
Hi
As Hannah would say "That is my Daddy" given I was two when this picture was taken.
I have a reprint of this old photo for you all. Erin and Michael's is on the way to them addressed to Erin with a few other things.
Hope you have a good day.
See you both soon.
Love Lynn Anne
My response:
Wow - that's an awesome picture! I don't remember seeing that before! Everyone is looking forward to your visit down here - including the dogs who are looking forward to the poop bags! Daisy had the runs last night and she pooped 5 times in the 2nd bedroom - so they will definitely come in handy!
This picture has made me want to go back through old photo albums - I can't remember if there is any pictures of me with Mom or Dad at that age - that picture of you and Dad looks so historical with the old suitcase and tin can - and even Bobby's in the background - do you think he's pouting because he didn't get to take the picture?
Love, Joan
Her response:
Hi Joan
You will have to wait for the plastic bags until Paul gets there. Paul is going to come to pick me up in N.S. so he will have them in his car. I am packing light when I take the train so I cannot put the these plastic bags in my luggage, right Dad.
It looks like Bobby has something important in his hands because he carrying it very reverently . Maybe it is an offering to the gods so he quit absorbed in what he is doing in the picture. The picture that was printed was cropped and Bobby is not left on that one so he is only on the scanned copy.
See you soon.