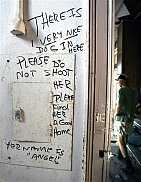 A hand written note from an unknown pet owner asks for mercy for their dog as animal Rescue volunteer Larry Brother, right, looks in a room of a school building where several dogs were found shot in St. Bernard Parish near New Orleans, Friday, Sept. 30, 2005. (AP Photo/LM Otero)

Some of the news stories coming out from legitamite news agencies about dogs in relation to the aftermath of Katrina are just absolutely unfathonable. They speak to the most base of the human condition and show us what we are capable of doing to each other as well as to every other type of sentient being.
This is from the October 1st, 2005 edition of the 2Advocate News Baton Rouge Louisiana newspaper:
Rescue group finds pet dogs tied, shot in St. Bernard school
By NED RANDOLPH
An animal rescue group following up on a tip made a gruesome discovery Thursday inside a St. Bernard Parish public school building.
About 12 to 15 pets -- dogs and puppies -- had been tied to classroom windows and doors and shot.
Outside the rooms, owners had scribbled notes on the walls.
"Inside this room is one very friendly dog. Please don't shoot her. Find her a nice home. Her name is Angel."
Catherine Buell of Los Angeles along with several other animal rescuers made the discovery Thursday evening after hearing a rumor circulating among pet rescue groups in the area. She said a CNN camera crew videoed the gruesome scene.
The dogs were lying in drying pools of blood, she said.
"Everywhere you go, blood is sticky on your boot," she said by cell phone Friday. "It's a horrifying feeling and experience."
Buell said she didn't know who had tied up the dogs or shot them. But it appeared that the owners had left them behind.
The Beauregard Middle School had apparently been used as an evacuation center in St. Bernard Parish, and residents were forced to evacuate without their pets, Buell said.
Their animals were left on the second and third floors. Some were on the stairs.
"There was a mama Golden Retriever with her arm over her babies. They're all shot," Buell said. "In one of the rooms was a huge pile of milk bones."
They counted at least eight adults and four puppies.
The rescue group, varying between 10 and 25 volunteers, has been camped out for the past month with several other animal rescue operations in Metairie off Jefferson Highway by a Rite Aid and bar called the Pit Stop, she said.
They've rescued about 25 to 30 pets.
Buell said that in two weeks she has seen a female that had hung herself on a choke chain tied to the front landing of a home.
She said she had seen dogs that had drowned.
"We'll check on specific addresses for people, and go find out if their pets are dead or alive," Buell said. "If they're alive we take them out."
There were none alive at the school.
One of the notes outside of a classroom said: "Three small dogs in room belong to Kathleen E. Jones, 2200 Creedboor Drive. They are miniature Schnauzers."
Another said: "Small dog in room. Dog's name is Frisky. Linda Bertoniere, owner, 1821 Heights Drive."
"There was a cocker spaniel in one of the rooms," Buell said. "They're what looked like friendly pet dogs, not viciously looking Rottweilers or anything like that."