Greta hasn't been very happy since she moved in. Jada is a total bully - Mrs Dingle could handle it, she gave as good as she got and Jada and her used to chase each other around their cage. And I think there was a reason why Mrs Dingle always had sores on her back. Poor Greta just has been laying down and taking it. But Jada has been happy as a pig in shit - she is totally back to her old self and has been mercilessly teasing poor Greta.
Greta was rescued with her sister Poppy from Stewiacke and her rat Mom Sonia has graciously agreed to come let her live here so that Greta has a chance in hell with Jada. Throw off the balance of power maybe. It should make things very interesting anyway! haha! There's going to be a lot more poop - that's for sure!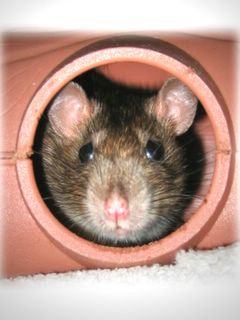 I'm not coming out...

Something smells funny...

Did I hear you say that my sister is coming tomorrow? Yea!!!