Jackson's Mom Angela

Today me and Buttercup went up to Coldbrook NS to the Annual Pet Day put on the Evangeline Kennel Club - it was pretty neat! There was more going on than I thought there'd be. They had booths of stuff for sale plus representatives from several rescues that I had heard of and a couple I hadn't which I thought was interesting.
We also found a couple new dog friendly stores and went into the Scotian Gold Store which is in Coldbrook and must have been one of the sponsors of the Pet Day because it was right next door to the function and was also having a 20% off sale of all their pet supplies and I've got to say it was A GREAT PET SUPPLIES STORE!!!!! They have got stuff there that you cannot find in Halifax and at much better prices. They had squeak toys that had really cool squeaks and dog carriers that you can't find down here for froo froo dogs that were very cute - and everything was CHEAP. And the store was also dog friendly. So it was worth the drive for that store alone!
And on the way up we stopped at Blomidon Nurseries in - shit, I think it was Birchville. I can't find the card I got from there. But they are VERY dog friendly, unlike other plant places like Walmart and Farmer Clem's which don't allow dogs at all - and their nursery is HUGE and they were really knowledgable about the plants that we bought. It was a super place! And Buttercup liked it too!
One of the rescue booths that we stopped at that we'd heard about but didn't really know anything about was the "Companion Animal Protection Society" which has been started in the Valley. That's the picture below - I think it was started in response to last year's news items about the pound up there shooting animals that had to be put down. The handouts that they were giving out sound like they're doing some amazing things. They've set up a foster network and the pound is super rescue friendly and they're doing lots of fund raising and have some really committed volunteers. They sound like a great organization - I'm sure they're have and are going to save a huge amount of lives up there!
So in other words - me and Buttercup had a great time and I think a lot of other people and their dogs did too - there were a lot of dogs there and I bet they were really happy that they were spending the day with their family rather than being left at home. Wouldn't it be great if we could spend every Saturday with our dogs? That would be awesome.
Oh yeah - the picture at the top is one of my email friends Angela who sells her folk art paintings - her business is called "Primitive Painter" and I bought one of her paintings today which I was excited about. She does a great job and she paints pictures of local stuff along with pictures of animals - my friend bought a really cute picture of a cat and a picture of a little poodle in a chair that was just TOO cute! I bought a picture of a lighthouse - just to be different. Her email address is mercerpenny@eastlink.ca if you want to check out her stuff or find out where's she's going to be selling it. She has a dog named Jackson that ru(i)ns her house currently.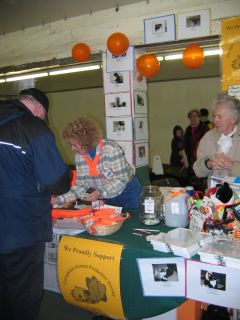 Companion Animal Protection Society