Tonight we went for our first on-leash walk in months. With 5 dogs that was just too many dogs to do it. And Daisy lunges at everything that passes by so having a 5th dog just made too much forward momentum when I had that happening. But with only 4 dogs I can handle it - well almost. It all depends on whether we encounter something really tasty at the beginning of the walk or at the end of the walk and how energetic the rest of the dogs are at that particular moment. I'm sure all you other dog owners can feel what I'm saying.
Although it is a challenge to walk 4 dogs, carry a couple bags of poop, have them constantly circling around me so I've got the leashes circling around me and Leonard and Charlie are on one leash - and I've got a cigarette going! And then I'm also trying to take pictures - no wonder Charlie and Buttercup were trying to pretend they didn't know me - and it was piss pouring at the time. That's why I decided to go for the walk - Seaview is currently a sea of dog shit with all the slush - it's a mess...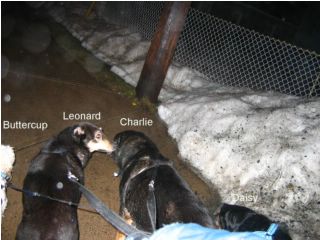 Our first on-leash walk in a while...

Buttercup and Charlie waiting around, or maybe trying get away from the camera - there is no respite